Tes3Mod:Tamriel Rebuilt/Theras Ancestral Tomb
The UESPWiki – Your source for The Elder Scrolls since 1995
Tomb:
Theras Ancestral Tomb


Added by
Tamriel Rebuilt
# of Zones
1
Occupants
Undead
Console Location Code(s)
Theras Ancestral Tomb
Region
Boethiah's Spine,

[38,-5]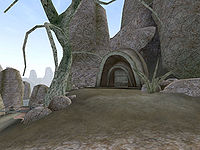 Theras Ancestral Tomb is a small tomb on the coast due east of Alt Bosara inhabited by undead.
There are two ways to reach the tomb from Alt Bosara. Either head north until you reach the coast, then swim east until the arid coastline gives way to grass: the tomb will be on your right, or take the east road out of the town and take the first right, then follow the canyon through its twists and turns past the Jherun Egg Mine until the tomb appears on your right.
The tomb is guarded by a greater bonewalker and five leveled undead, but they are guarding nothing of note as it contains only the usual collection of potions, ingredients and odd pieces of armor. An exception is the Orcish war axe which is lying on top of the final ash pit in the large room.