Tes3Mod:Tamriel Rebuilt/Tel Mothrivra
The UESPWiki – Your source for The Elder Scrolls since 1995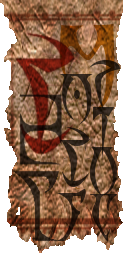 Tel Mothrivra was once a great Tribunal Temple fortress built around a monastery dedicated to St. Delyn. However, the settlement lost its military significance when Morrowind was made part of the Empire, and the fortress suffered from a significant loss of staff. At this point, the weakness was exploited by the Akaviri, who captured the fortress during their invasion. Abandoned, the compound fell into disrepair and decay, with monks its only occupants for many years. Eventually, its religious significance waned as well, and the Tribunal Temple was forced to sell the largely empty monastery to Dralothas Omothran. The new ruler of Tel Mothrivra has since set about making the old Velothi settlement more suitable for a Telvanni lord, and his actions as well as the impious nature of House Telvanni have done little to endear the new tenants to the Temple faithful still in residence. A cursory tour of the settlement would make the hearts of even the most ignorant citizens of Morrowind weep at the sight of monk cells being transformed into prisons and slave houses, and the ubiquitous Velothi ritual ash pits used as hasty storage holes with crates and urns haphazardly discarded among sanctified bones and whispering ash.
The settlement itself is split into two sections. The lower part is a small courtyard with a statue to Saint Delyn the Wise. Presumably this was designed for visiting travelers and secular services, which could thus be kept separate from the ecclesiastical establishment. Now, among homes you will find the magic shop inside the Telvanni pod, and just before the wall to upper Tel Mothrivra is the obligatory Telvanni Tower - be sure to take a peek inside the "Turret" here.
The upper part is a larger square with the decommissioned monastery building at its center. Not much here besides residences, guard quarters and the local tavern, The Glass Goblet, which provides room and board, as well. Do visit the monastery-turned-tower to peruse the various profanity inflicted upon the Temple's sacred sites, and chat with Llothis Dralor, one of the previous owners of the settlement, in his home on the west side of town.
Getting There and Around
[
edit
]
Take the Riverstrider southwest of town to Alt Bosara. The road north leads to Llothanis and south to Alt Bosara.
Places of Interest Around Tel Mothrivra
[
edit
]
An Egg Mine below the town supports the economy of the settlement. Various caves can be explored in the Boethiah's Spine around the fortress, and an Imperial farmer keeps his stock nearby.
Related Quests
[
edit
]
Miscellaneous
[
edit
]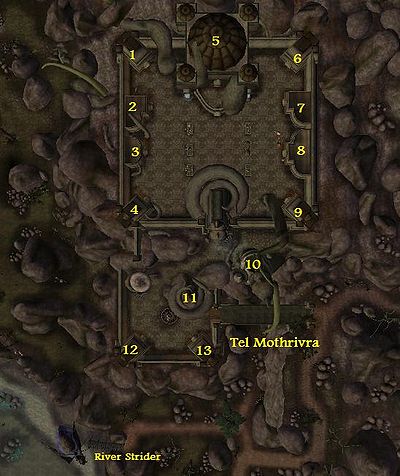 Map Key

1. Golyn Sedrethi's House
2. Aralor Theralas' House
3. Llothis Dralor's House
4. Guard Barracks
6. Storage Tower
7. Drulasa Hlamen's House

9. Prison
10. South Tower
12. Feduro Daranith's House
13. Slave Holding
Name
Race
Class
Faction
Level
Health
Magicka
Alarm
Fight
Location
Notes
Alammu Llethri
Dunmer
Thief Service
Thieves Guild

(Footpad)

11
92
112
30

30

The Glass Goblet
Merchant, Trainer
Alvor Vendu
Dunmer
Monk
9
83
92
70

30

The Glass Goblet
Aralor Theralas
Dunmer
Commoner
8
86
96
90

30

Outside (33,3)
Beekatan
Argonian
Slave
3
0
104
0

30

Tower of Tel Mothrivra
Already Dead
Dalam Hleray
Dunmer
Guard
House Telvanni

(Lawman)

20
205
184
100

30

Tower of Tel Mothrivra
Dralothas Omothran
Dunmer
Battlemage
House Telvanni

(Wizard)

30
177
200
0

30

Tower of Tel Mothrivra, Manor
Ruler of Tel Mothrivra
Drulusa Hlamen
Dunmer
Commoner
8
81
96
90

30

Outside (33,3)
Enarvyne Varis
Dunmer
Guard
House Telvanni

(Lawman)

25
244
132
100

30

Tower of Tel Mothrivra, Retainer's Quarters
Feduro Daranith
Dunmer
Bard
7
74
126
70

30

Feduro Daranith's House
Fillim
Bosmer
Rogue
Thieves Guild

(Footpad)

9
82
92
30

30

The Glass Goblet
Gadali Vandal
Dunmer
Enforcer
House Telvanni

(Oathman)

11
83
102
70

40

Slave Holding
Linkable Entry
Gadave Sethan
Dunmer
Publican
7
71
120
60

30

The Glass Goblet
Merchant
Gidave Vendal
Dunmer
Guard
House Telvanni

(Lawman)

30
274
144
100

30

Tower of Tel Mothrivra, Manor
Golyn Sedrethi
Dunmer
Guard
House Telvanni

(Lawman)

28
262
140
100

30

Outside (33,3)
Han-Zaw
Argonian
Acrobat
7
78
90
40

30

Prison
Hlavesa Llenim
Dunmer
Merchant
13
120
138
50

30

The Glass Goblet
Inwold
Breton
Slave
2
46
102
0

30

Tower of Tel Mothrivra
Kammus Uvayn
Dunmer
Sorcerer
House Telvanni

(Caster)

14
111
162
70

40

South Tower: Upper Tower
Llothis Dralor
Dunmer
Priest
Tribunal Temple

(Acolyte)

11
82
108
80

30

Llothis Dralor's House
Neeta
Argonian
Slave
4
60
84
60

30

Tower of Tel Mothrivra
Orvano Tralen
Dunmer
Therionaut
8
77
122
80

30

Outside (33,2)
Offers Transport to Alt Bosara
Raksadarg
Khajiit
Slave
4
60
84
60

30

Tower of Tel Mothrivra
S'Baad
Khajiit
Slave
4
60
84
90

30

Slave Holding
Seris Athyon
Dunmer
Enchanter Service
9
68
144
90

30

Seris Athyon: Magical Supplies
Merchant, Enchanter, Spellmaker
Shabhi
Khajiit
Slave
3
53
84
60

30

Tower of Tel Mothrivra
Sodrara Asinbabia
Dunmer
Pilgrim
8
83
96
40

30

The Glass Goblet
Staron
Redguard
Barbarian
12
135
78
70

40

The Glass Goblet
Tadali Tistar
Dunmer
Commoner
House Telvanni

(Oathman)

5
63
88
100

30

Tower of Tel Mothrivra, Entrance Hall
Tadave Arendu
Dunmer
Commoner
4
63
86
50

30

Outside (33,3)
Talmeni Omothran
Dunmer
Enchanter
House Telvanni

(Caster)

13
85
164
0

30

Tower of Tel Mothrivra, Manor
Uradasou Tistar
Dunmer
Savant
House Telvanni

(Oathman)

6
108
120
70

30

Tower of Tel Mothrivra, Entrance Hall
Vaden Othren
Dunmer
Guard
House Telvanni

(Lawman)

27
256
138
100

30

Tower of Tel Mothrivra