Tes3Mod:Tamriel Rebuilt/Sirsadrorran
The UESPWiki – Your source for The Elder Scrolls since 1995
This article requires a map.
Please remove this template from the page when finished.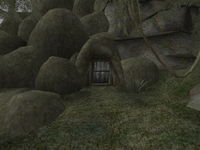 Sirsadrorran is a cave with a shrine to the Daedric Prince Sheogorath inside located between Ildrim and Old Ebonheart.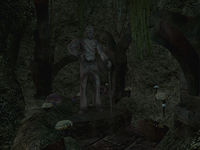 Upon entry, a locked door blocks further passage to the shrine. Beyond this, a scamp guards a split in the path. Taking the path straight ahead leads to a small room with a full set of Journeyman's alchemy equipment, mummy heart, kagouti meat, kwama meat, human flesh, the note The Blessings of Sheogorath, and an unowned bedroll. Going down the left path leads to two old gates; one to the left, one to the right. The gate to the right leads to a dead-end tunnel guarded by a skeleton champion. The gate to the left leads to the warlock, Liras Mareluth, and the shrine to Sheogorath. At the shrine is a copy of Sixteen Accords of Madness IX, a daedric steel dagger, a timsa-come-by flower, a cursed diamond and piece of raw ebony, and 100 gold, as well as multiple violet coprinus, luminous russula, and bluefoot mushrooms. Going past these two gates leads to three more locked old gates guarded by another scamp. Behind two of these gates are dead bodies.
| Name | | Race | Class | Level | Health | Magicka | Alarm | Fight |
| --- | --- | --- | --- | --- | --- | --- | --- | --- |
| Liras Mareluth | | Dunmer | Warlock | 13 | 87 | 100 | 0 | 100 |