Tes3Mod:Tamriel Rebuilt/Salt Marsh
The UESPWiki – Your source for The Elder Scrolls since 1995
The southern edge of the Deshaan Plains descends into the Arnesian Jungle. The treacherous border between the two is known as the Salt Marsh, which is home to the salt animals of the Deshaan as well as the jungle creatures of the Black Marsh. This borderland is as dangerous as the regions on either side. — Tamriel Rebuilt
●

Salt Marsh Weather Table

●

●
Clear
10%
●
Thunder
5%
●
Cloudy
30%
●
Foggy
10%
●
Ash
0%
●
Blight
0%
●
Overcast
25%
●
Rain
20%
●
Snow
0%
●
Blizzard
0%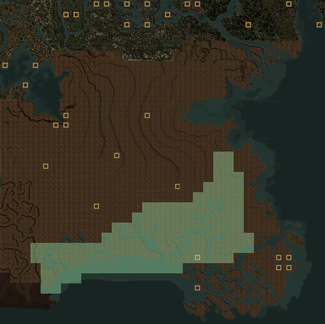 Salt Marsh is an intermediate region between the Deshaan Plains and Arnesian Jungle in the Deshaan District of Morrowind.
Its largest settlement is Dres Yengrith. The region borders the Deshaan Plains to the north, Shipal-Shin to the west, the Arnesian Jungle to the south, and the Mudflats to the east.
It has not been officially released.
Unreleased Places
[
edit
]
These places are planned, in development, or partially complete and available through TR_Preview. Due to the ever-changing nature of unreleased content, only major locations on the concept map are listed here.
Settlements
[
edit
]
Outposts (Tier V)
[
edit
]