Tes3Mod:Tamriel Rebuilt/Sagea
The UESPWiki – Your source for The Elder Scrolls since 1995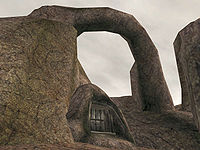 Sagea is a medium-sized cave in the heart of the Boethiah's Spine.
There's no easy way to pinpoint the location of the cave. Head out of Firewatch's south gate and follow the road east. When it turns to the north, bear east-southeast instead, heading past the Murahn-Cithal Iron Mine towards the mountains. The entrance to Sagea can be found a short way into the foothills after passing beneath a rock arch.
Inside the cave awaits Zaritan Renyl and his small force of undead. They guard a reasonable stash of alchemical equipment including a full set of master's alchemy equipment. There's also a copy of the Mysticism skill book, Mystery of Talara, Part 5. Zaritan sleeps with a rare piece of amber under his pillow.
| Name | | Race | Class | Level | Health | Magicka | Alarm | Fight |
| --- | --- | --- | --- | --- | --- | --- | --- | --- |
| Zaritan Renyl | | Dunmer | Necromancer | 35 | 179 | 200 | 50 | 30 |