Tes3Mod:Tamriel Rebuilt/Sadratus
The UESPWiki – Your source for The Elder Scrolls since 1995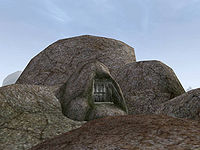 Sadratus is a small cave in the Boethiah's Spine inhabited by a skooma manufacturer.
The cave is tucked away in a range of hills and not easy to stumble across accidentally. Head west from Ranyon-ruhn and turn south at the T-junction. After a short distance south, head west under a rock arch then follow the path around to the north then east. You should find the entrance set into a rock to the north.
The cave is empty apart from Parai Galitte and her alchemy table. On the table are two potions of skooma, and three pieces of moon sugar along with an apprentice's alembic and mortar.
| Name | | Race | Class | Level | Health | Magicka | Alarm | Fight |
| --- | --- | --- | --- | --- | --- | --- | --- | --- |
| Parai Galitte | | Breton | Alchemist | 9 | 61 | 172 | 0 | 90 |