Tes3Mod: Tamriel Rebuilt/Sacred Lands
The UESPWiki – Your source for The Elder Scrolls since 1995
Sacred East is a rugged coast and rocky ridges surround the sparsely vegetated land that hosts the Dunmer holy city of Necrom. The hallowed and haunted lands around the City of the Dead appear dour and cold, but are alive with the whispers of Dunmer dead carried by the wind, and with the spirits themselves. These are xenophobic like their descendants, but less willing to suffer an outsider's presence. Necrom's white architecture contrasts starkly to the browns and greens of the surrounding area. The region also contains the Indoril town of Sailen and the tiny hamlet of Evos, and adventurous travelers may find the occasional tomb, ruin and Daedric shrine to explore. — Tamriel Rebuilt
●

Sacred Lands Weather Table

●

●
Clear
35%
●
Thunder
5%
●
Cloudy
10%
●
Foggy
0%
●
Ash
0%
●
Blight
0%
●
Overcast
40%
●
Rain
10%
●
Snow
0%
●
Blizzard
0%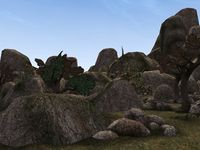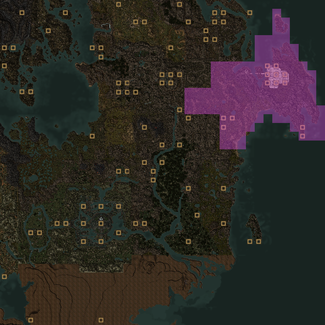 Sacred Lands is a peninsular region in the Mournhold District of Morrowind. It is the peaceful coastal region surrounding Necrom.
Its largest settlement is the holy city of Necrom. The Sacred Lands border Nedothril to the south, the Mephalan Vales to the west, and the Padomaic Ocean on all other sides.
A list of places found in the Sacred Lands region.
Settlements
[
edit
]
Metropolises (Tier I)
[
edit
]
Necrom — An ancient Temple facility, home to funerary traditions that predate the Tribunal.
Villages (Tier IV)
[
edit
]
Sailen — A small farming settlement suited for traveling pilgrims.
Outposts (Tier V)
[
edit
]
Hamlets (Tier VI)
[
edit
]
Acre of Saint Meris — A small farm in the Sacred Lands region
Hlersis — A small cave settlement and mine town in the Sacred Lands.
Dwellings
[
edit
]
Daedric Ruins
[
edit
]
Dunmer Strongholds
[
edit
]
Dwemer Ruins
[
edit
]
Landmarks
[
edit
]
Ruined Imperial Forts
[
edit
]
Velothi Towers
[
edit
]