Tes3Mod:Tamriel Rebuilt/Relvenim Ancestral Tomb
The UESPWiki – Your source for The Elder Scrolls since 1995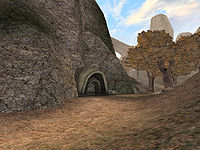 Relvenim Ancestral Tomb is a small tomb in the Boethiah's Spine containing undead.
The tomb lies east-southeast of Llothanis but the direct route involves passing over a range of hills. For those without levitation, there is a road that leaves Llothanis and passes around the northern end of the ridge before heading south again. The tomb lies on the eastern side of the road.
Inside, there is little of interest. There are a few undead guarding a very few treasures - merely the typical armor, potions and soul gems of an average ancestral tomb.