Tes3Mod:Tamriel Rebuilt/Ranyon-ruhn
The UESPWiki – Your source for The Elder Scrolls since 1995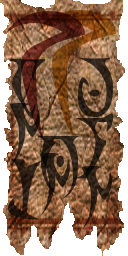 Ranyon-ruhn is a small Telvanni settlement with an ebony mine. The town is composed of Velothi buildings with one "Telothi" house. The local Telvanni lord, Master Mithras, lives in a Telvanni mushroom tower just outside of the town. The town has a small Tribunal Temple, a Silt Strider port, an alchemist, a healer, and a tavern called The Dancing Jug.
Getting There and Around
[
edit
]
A silt strider can be taken to Bal Oyra, Tel Ouada, and Helnim.
Related Quests
[
edit
]
Name
Race
Class
Faction
Level
Health
Magicka
Alarm
Fight
Location
Notes
Alasha Kori
Dunmer
Publican
25
161
176
90

30

The Dancing Jug
Merchant, Starts the quest: The Drunken Knight
Arthal Eindari
Dunmer
Commoner
10
98
100
0

90

Arthal Eindari's House
Features in the quest: Epidemic in Ranyon-ruhn
Asta Pelius
Imperial
Publican
9
82
126
90

30

Silt Strider Tower
Merchant
Azariah Thelas
Dunmer
Noble
13
111
118
0

30

Azariah Thelas' House
Features in the quests: A Most Displeased Noble, Balancing Act, Treachery Revealed, The Coward and the Tomb, The Final Search
Brelar Gildaren
Dunmer
Commoner
15
128
110
0

30

Brelar Gildaren's House
Features in the quest: Census in Ranyon-ruhn
Brelerun Overin
Dunmer
Pawnbroker
10
81
126
50

30

Silt Strider Tower
Merchant
Cartil Florius
Imperial
Mage
Great House Telvanni

(Retainer)

5
55
114
80

30

Outside
Features in the quest: Census in Ranyon-ruhn
Celura Mathon
Dunmer
Nightblade
Great House Telvanni

(Lawman)

22
115
126
0

100

Catacombs
Dilnar Llenim
Dunmer
Commoner
8
86
96
0

90

Dilnar Llenim's House
Features in the quest: Epidemic in Ranyon-ruhn
Drelatha Nidresa
Dunmer
Scout
21
192
124
0

30

Drelatha Nidresa's House
Trainer
Droth Arelu
Dunmer
Spellsword
Great House Telvanni

(Oathman)

24
175
144
0

100

Catacombs: Inner Sanctum
Einnisa Gavyn
Dunmer
Alchemist
15
90
190
90

30

Outside
Evoh Ulessen
Dunmer
Mage
20
112
164
90

30

Evoh Ulessen's House
Farul Dinz
Dunmer
Mage
36
173
200
90

30

The Dancing Jug
Galdasi Thendas
Dunmer
Thief
Great House Telvanni

(Retainer)

10
81
108
90

30

Galdasi Thendas' House
Features in the quest: An Offer She Can't Refuse
Gathar Narthil
Dunmer
Sorcerer
Great House Telvanni

(Oathman)

17
126
176
0

100

Catacombs
Goras Tarven
Dunmer
Battlemage
Great House Telvanni

(Oathman)

25
2
0
0

100

Catacombs: Inner Sanctum
Hasilius Brahn
Imperial
Knight
20
181
122
0

30

The Dancing Jug
Features in the quest: The Drunken Knight
Hekka Gildaren
Dunmer
Smith
10
119
94
90

30

Outside
Merchant, Blacksmith
Irele Nathryon
Dunmer
Alchemist Service
Great House Telvanni

(Oathman)

20
110
200
90

30

Irele Nathryon: Alchemist
Merchant, Features in the quest: Alchemical Slander
Jernialin Sarethi
Dunmer
Nightblade
20
112
122
90

30

The Dancing Jug
Kobin Delas
Dunmer
Trader
10
88
128
90

20

Outside
Merchant, Features in the quest: A Delayed Shipment
Madragas Renil
Dunmer
Mage
Great House Telvanni

(Oathman)

17
101
154
0

100

Catacombs
Manari Gildaren
Dunmer
Commoner
4
58
86
50

30

Outside
Features in the quest: Unconventional Methods
Milara Selenoth
Dunmer
Caravaner
5
69
112
90

20

Outside
Offers Transport to Bal Oyra, Helnim and Tel Ouada
Mirisun Varen
Dunmer
Guard
Great House Telvanni

(Lawman)

23
231
128
100

30

Mine Office
Features in the quests: A Most Displeased Noble, Alchemical Slander, Beast of Burden
Narvyn Dralas
Dunmer
Pilgrim
3
57
84
0

30

Temple
Features in the quest: The Gathering Storm
Nevusa Lakasyn
Dunmer
Healer Service
19
106
120
90

30

Nevusa Lakasyn: Healer
Merchant, Spell Merchant, Spellmaker, Trainer, Starts the quest: Alchemical Slander
Punibi Rindo
Dunmer
Commoner
3
57
84
100

30

Temple
Ratagos
Dunmer
Priest
Tribunal Temple

(Master)

30
161
162
100

30

Temple
Starts the quests: A Friendly Warning, Chores in Port Telvannis, Epidemic in Ranyon-ruhn, Seht's Ward, Support in Llothanis, The Gathering Storm, Features in the quest: Peacemaker
Sarthos Varyn
Dunmer
Pilgrim
4
63
86
0

30

Temple
Features in the quest: The Gathering Storm
Sevyn Arvel
Dunmer
Miner
5
82
86
60

30

Mine Office
Simeth
Dunmer
Guard
Great House Telvanni

(Lawman)

25
244
132
100

30

Outside
Starts the quest: Romance in Ranyon-ruhn, Features in the quests: Alchemical Slander, The Drunken Knight, Time to Pay, the Telvanni Way, Treachery Revealed
Sinsal Nedriem
Dunmer
Alchemist Service
Great House Telvanni

(Spellwright)

30
154
200
0

30

The Dancing Jug
Merchant, Features in the quest: Alchemical Slander
Telaras Medrevan
Dunmer
Warlock
Great House Telvanni

(Spellwright)

36
178
173
0

30

Catacombs: Inner Sanctum
Features in the quest: Time to Pay, the Telvanni Way
Teris Romoran
Dunmer
Miner
5
82
86
60

30

Mine
Teris Sevuro
Dunmer
Crusader
Indoril

(Partisan)

23
198
128
100

30

Temple
Tholenen Drelas
Dunmer
Miner
5
82
86
60

30

Mine
Verana Eindari
Dunmer
Sorcerer
8
81
96
0

90

Arthal Eindari's House
Features in the quest: Epidemic in Ranyon-ruhn
Zuriel Drelor
Dunmer
Commoner
11
99
102
100

30

Outside
Map Key

2. Zuriel Drelor's House
3. Galdasi Thendas' House
5. Dilnar Llenim's House
6. Guard Tower
8. Einnissa's Home
9. Azariah Thelas' House

10. Drilatha Nidresa's House
11. Nataya Radasar's House
12. Evoh Ulessen's House
13. Temple
14. Arthal Eindari's House
15. Brelar Gildaren's House
16. Silt Strider Tower
17. Mine Office