Tes3Mod:Tamriel Rebuilt/Necrom
The UESPWiki – Your source for The Elder Scrolls since 1995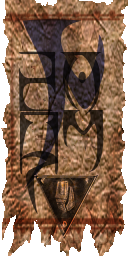 Necrom is one of the largest Temple-owned cities in Morrowind. Located on a peninsula on Morrowind's east coast, the Sacred Lands region has an air of somber tranquility, well suited to the city where the dead of the Dunmer population of Morrowind are interred. Necrom has a unique, gleaming white style of architecture unseen elsewhere in the province, and winding tunnels of catacombs saturate the rock upon which the city above is built. Entrances to the Catacombs can be found in the Charnelworks, and the lowest levels of the Temple Administration Building in front of the Fane of the Ancestors.
Catacombs
[
edit
]
The most important structure in the city, the Catacombs of Necrom run deep and long under the city above. They are home to the remains of innumerable Dunmer ancestors, who watch over the people of Morrowind and are revered in turn by the living. Below the more modern structures is a warren of ancient burial caverns built by the original Velothi exodites, and it is surprisingly easy to get lost. Be sure to bring a scroll of Almsivi intervention for a quick exit.
Most visitors to Necrom will find themselves here first. There are a few buildings of note, mainly a shrine to seafarers, a hostel and a small trader's shop. Access to the rest of the city is through the docks administration building, at the center of the district.
Charnelworks
[
edit
]
The main funerary works of Necrom, this is where the bodies brought across the causeway are prepared for internment in the catacombs. This district is the home of the many priests and workers who help prepare and cremate the bodies, and is also where holy bonewalker guardians are created.
Fane District
[
edit
]
Home to the majestic Fane of the Ancestors, one of the most important religious buildings in Morrowind, this area of the city above is a sight to behold. In front of the Fane is the central administration building for Necrom, which contains one of the access points to the catacombs below.
Upper District
[
edit
]
The upper district houses most of Necrom's shops, inns and cult hostels. There are also various museums and shrines venerating the history of Morrowind, so this district is a must for any pilgrim.
See People in Necrom.
Getting There and Around
[
edit
]
Necrom is well-connected to other nearby settlements. A boat service takes passengers from the docks to Alt Bosara, while Silt Striders will ferry to nearby Sailen and the cliff city of Akamora. A long stone causeway connects the peninsula to the mainland by road and allows foot travel, as well as the passage of funerary processions that do not come by boat or Silt Strider.
Related Quests
[
edit
]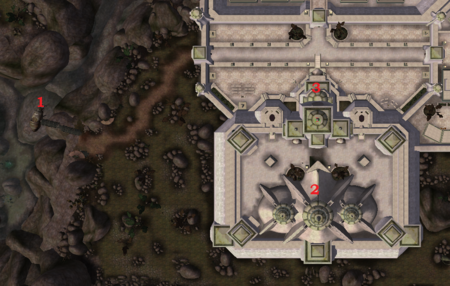 Map Key - Fane District
1. Silt Strider
2. Fane of the Ancestors
3. Temple Administration Building
Map Key - Upper District

1. Northern Watchtower
2. Alma Rula's Retreat
3. Shrine of St. Rilms
4. Tenandus' Rare Books
5. Watch Barracks
6. Reliquiary of St. Nerevar's Shield-Companion
7. Memorial of the War of the First Council
8. Refuge of St. Aralor
9. Sacellum of St. Llothis
10. Pilgrim's Respite
11. Arnesian War Collection
12. Ieme Rethri: Temple Outfiter
13. Leranen Othril: Apothecary

14. Waiting Gate
15. Shrine of the First Citizens
16. Ordinator Storage Tower
17. Temple Hostel
18. Hospice
19. House of the Waking-Guides
20. Shrine of the Ordinators
21. Shrine of Sharmat's Debt
22. Pallbearers and Sweeps
23. Chamber of Artifects
24. Hall of Western Wars
25. Delmi Rethonen's Residence
Map Key - Charnelworks and Port

1. Narcolepsy
2. Exodus
3. Gratitude's Wake
4. Boat to Alt Bosara
5. Seafarer's Rest Hostel
6. Shrine of Safe Waters
7. Docks Administration
8. Ethaso Athones' House
9. Rathal Senoril: Trader
10. Irver Duleth's House
11. Uludu Verith's House
12. Foms Veleth's House
13. Chamber of Parting
14. Satheri Indaram's House
15. Belas Thendas' House
16. Ulmosi Sarendas' House
17. Central pilar
18. City entrance

19. Disvur Bereth's House
20. Bradys Hlaalo's Residence
21. Silvu Barethi's House
22. Dethral Ginith's House
23. Golven Salothan's House
24. Rilam Arelas' House
25. Nedim Fareloth's House
26. Charnelworks Records
27. Greater Bonewalker Smithy
28. All Saints' Crematorium
29. Charnelworks Mortuary
30. Catacombs: Lower City Entryway
31. Crematorium of St. Veloth
32. Lesser Bonewalker Smithy
33. Relor Savani's House
34. Serila Vendil's House
35. Storage Tower
36. Solamis Gerthas' House