Tes3Mod: Tamriel Rebuilt/Molagreahd
The UESPWiki – Your source for The Elder Scrolls since 1995
Molagreahd is a series of fertile plains divided by the jagged ranges of Boethiah's Spine. Generally flat with sparse but consistent tree cover. This region contains the prominent Telvanni towers of Tel Ouada and Llothanis, as well as a major Imperial fortress at Firewatch and numerous smaller settlements and plantations in between. — Tamriel Rebuilt
●

Molagreahd Weather Table

●

●
Clear
35%
●
Thunder
5%
●
Cloudy
25%
●
Foggy
15%
●
Ash
0%
●
Blight
0%
●
Overcast
10%
●
Rain
10%
●
Snow
0%
●
Blizzard
0%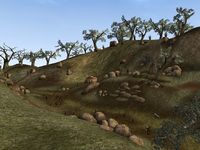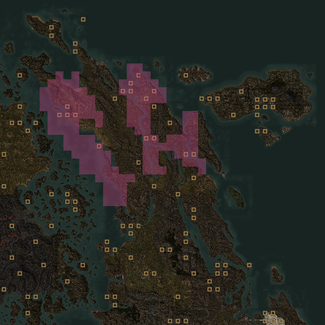 Molagreahd is a region in the Telvannis District of Morrowind, consisting of rolling hills and fertile pastures. It is divided into two parts that are separated by Boethiah's Spine.
Its largest settlement is Firewatch. Molagreahd has various borders with Boethiah's Spine, a western sea border and small land border with Azura's Coast, an eastern sea border with the Telvanni Isles, Aranyon Pass within its eastern half, padded on some sides by Boethiah's Spine, and finally the Sea of Ghosts to the north.
A list of places found in the Molagreahd region.
Settlements
[
edit
]
Cities (Tier II)
[
edit
]
Villages (Tier IV)
[
edit
]
Llothanis — A Telvanni town in the eastern Molagreahd spanning the Nebet Bay.
Ranyon-ruhn — A small Telvanni settlement with an ebony mine.
Tel Ouada — A Telvanni settlement dominated by the local Telvanni mage lord's tower.
Outposts (Tier V)
[
edit
]
Hamlets (Tier VI)
[
edit
]
Dwellings
[
edit
]
Daedric Ruins
[
edit
]
Grottoes
[
edit
]
Landmarks
[
edit
]
Aegondo Point — A traditional pilgrimage site at the northern tip of the Molagreahd.
The Duchess — A shipwreck on the floor of the Sea of Ghosts, that carries a dangerous cargo.*
Pioneer's Wake — A cargo ship currently docked at the quay just outside Llothanis.
Velothi Towers
[
edit
]
* These places are technically in Azura's Coast, but are listed here because this is the closest Tamriel Rebuilt region.
Related Quests
[
edit
]
A list of quests involving the Molagreahd region.
Faction Quests
[
edit
]
Fighter's Guild:
Manrizache: Help some archaeologists on an excavation.
House Telvanni:
Tribunal Temple:
Miscellaneous Quests
[
edit
]
Name
Race
Class
Faction
Level
Health
Magicka
Alarm
Fight
Location
Notes
Agurz gra-Murzum
Orc
Champion
28
229
124
90

30

Molagreahd (15,19)
Features in the Quest: Highway Robbery
Alammu Rindo
Dunmer
Hunter
10
87
94
0

100

Molagreahd (10,23)
Aran Maritas
Dunmer
Smuggler
3
53
84
0

90

Molagreahd (22,8)
Aris Tharen
Dunmer
Rogue
10
98
94
0

30

Molagreahd (30,12)
Cellius Fractus
Imperial
Archer
13
113
100
90

30

Molagreahd (20,16)
Features in the Quest: Highway Robbery
Ciminel
Altmer
Archer
15
131
122
90

30

Molagreahd (20,16)
Features in the Quest: Highway Robbery
Corvan Llenthis
Dunmer
Smuggler
3
53
84
0

90

Molagreahd (22,8)
Darthal
Redguard
Archer
13
133
80
90

30

Molagreahd (20,16)
Features in the Quest: Highway Robbery
Dashel gro-Khazor
Orc
Warrior
22
187
84
90

30

Molagreahd (15,19)
Features in the Quest: Highway Robbery
Devyn Salam
Dunmer
Farmer
6
82
88
0

30

Molagreahd (27,15)
Dolami Saren
Dunmer
Smuggler
10
100
94
0

30

Molagreahd (25,16)
Domlin
Redguard
Mage
15
103
128
0

30

Molagreahd (20,20)
Features in the Quest: Killing the Messenger
Drenar Valeth
Dunmer
Caravaner
5
74
112
90

30

Molagreahd (19,23)
Transport to Ranyon-ruhn and Tel Ouada
Elera
Imperial
Archer
10
103
94
90

30

Molagreahd (20,16)
Features in the Quest: Highway Robbery
Elnar Llenim
Dunmer
Thief
11
92
112
0

30

Molagreahd (25,16)
Falura Tunel
Dunmer
Nightblade
Great House Telvanni

(Lawman)

13
80
106
0

80

Molagreahd (22,8)
Fal gra-Gazhk
Orc
Warrior
17
195
106
90

30

Molagreahd (20,16)
Features in the Quest: Highway Robbery
Ferthas Merils
Dunmer
Smuggler
3
52
84
0

90

Molagreahd (22,8)
Finm Amas
Dunmer
Hunter
20
139
110
0

30

Molagreahd (20,23)
Haflod
Nord
Warrior
3
77
64
0

100

Molagreahd (30,12)
Features in the Quest: A Delayed Shipment
Indene Othravel
Dunmer
Thief
12
92
116
0

100

Molagreahd (30,12)
Ki-Ralis
Argonian
Slave
7
80
90
0

30

Molagreahd (26,21)
Features in the Quest: Running Into Trouble
Lelles Etrade
Breton
Thief
5
55
112
0

30

Aegondo Point (26,20)
Features in the Quest: Pilgrimage to the Shrine of Wisdom
Marton
Nord
Warrior
13
152
98
90

30

Molagreahd (20,16)
Features in the Quest: Highway Robbery
Medenb Vendu
Dunmer
Herder
7
85
90
0

40

Molagreahd (27,18)
Mee-Sei
Argonian
Slave
3
53
104
0

30

Aegondo Point (26,20)
Features in the Quest: Running Into Trouble
Morvin Girith
Dunmer
Warrior
6
93
88
0

30

Molagreahd (27,9)
Features in the Quest: The Gathering Storm
Mothris Garvil
Dunmer
Rogue
4
59
84
0

100

Molagreahd (30,12)
Features in the Quest: A Delayed Shipment
Oleen-La
Argonian
Spellsword
Mages Guild

(Apprentice)

12
102
130
0

20

Molagreahd (20,20)
Features in the Quest: Killing the Messenger
Olor gro-Matamph
Orc
Crusader
19
180
100
90

30

Molagreahd (15,19)
Features in the Quest: Highway Robbery
Ulenus Sarayn
Dunmer
Scout
Great House Telvanni

(Hireling)

4
62
86
0

60

Molagreahd (25,11)
Trainer
Uneleas Rangirth
Dunmer
Herder
7
85
90
0

30

Starts the Quest: The Coward and the Tomb
Urob gro-Narob
Orc
Witchhunter
21
126
200
90

30

Molagreahd (15,19)
Features in the Quest: Highway Robbery
Vedur Omoran
Dunmer
Smuggler
11
106
96
60

30

Molagreahd (30,12)
Yazorku gra-Shuarg
Orc
Warlock
22
130
114
90

30

Molagreahd (15,19)
Features in the Quest: Highway Robbery