Tes3Mod:Tamriel Rebuilt/Kulidon
The UESPWiki – Your source for The Elder Scrolls since 1995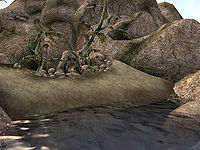 Kulidon is a large cave near Alt Bosara that acts as a hideout for skooma smugglers. The entrance to the cave lies across the southern end of Lake Boethiah from the town, just south of the Stalled Shipwreck.
There is a large amount of loot to be found in the cave. Much of it stands in piles in the main central chamber, at various different levels on the wooden walkways. In one of the central chambers is a large stash of the gang's product; several crates of moon sugar and bottles of skooma.
There are several smaller stashes outside the main chamber. Tucked away behind a rock in the west is a glass war axe lying on a rusted chest next to a bottle of vintage brandy and an exclusive spell absorption potion, with the chest itself containing 500 gold plus gems and other loot. In the same room, high on a rocky ledge, is an Orcish helm and a few other minor items. In a small alcove high on the wall of the first room are some pieces of dreugh armor and a couple of spears. The northernmost room has a raised area on which a skeleton can be found, still holding its battle axe of wounds. In general, the cave is well worth exploring fully.