Tes3Mod:Tamriel Rebuilt/Massapi
The UESPWiki – Your source for The Elder Scrolls since 1995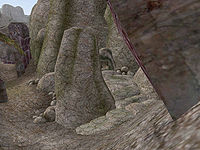 Massapi is a visually-stunning cave west of Alt Bosara.
Head west from Alt Bosara until the road swings south then head west-northwest towards the ruin of Hassulsallusalkit. The entrance to Massapi is just north of the shrine although it can be tricky to find.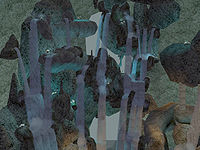 There is no treasure in the cave nor are there any enemies. The only item of interest is a Shrine of Almalexia's Mercy, which can be used to cure poison and common or blight disease. It can also cast Almalexia's Mercy, which gives the player a 5% resistance to normal weapons for 48 minutes.
The most notable thing about Massapi, however, is the stunning waterfall that dominates the cave. It alone makes Massapi worth a visit.