Tes3Mod:Tamriel Rebuilt/Maelasi Cavern
The UESPWiki – Your source for The Elder Scrolls since 1995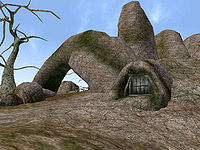 Maelasi Cavern is a small cave high in the Boethiah's Spine on the coast of the Sea of Ghosts.
The cave can be difficult to find as there are no nearby roads. Starting in Llothanis, head north out of town and get on top of the mountain ridge. Continue north, staying on the ridge, until you reach two rock arches. The cavern is between those.
Inside, the cave is an odd mix of natural caverns and the remains of an underground building. The most striking area is a large room filled with the sort of trough more often found in sixth house bases on Vvardenfell. There isn't any treasure of interest, with the only items being a few ingredients. There is a greater than normal number of animals to be found inside the cave.