Tes3Mod:Tamriel Rebuilt/Lliryn Ancestral Tomb
The UESPWiki – Your source for The Elder Scrolls since 1995
Tomb:
Lliryn Ancestral Tomb


Added by
Tamriel Rebuilt
# of Zones
1
Occupants
Undead
Console Location Code(s)
"Lliryn Ancestral Tomb"
Region
Boethiah's Spine,

[21,21]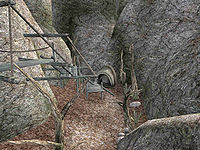 Lliryn Ancestral Tomb is a small tomb packed with rare ingredients and vengeful undead guardians.
It is tucked into a small valley in the Boethiah's Spine, and not particularly easy to find. Head southeast down the coast from Bal Oyra, past Manrizache until you reach a sandy bay. On the south coast is a wooden staircase over the coastal mountains and down into the valley. Be careful to take the right one - a similar stair heading southwest leads to the Varethan Ebony Mine.
The tomb contains the usual small selection of minor treasure, but the real loot is in the central chamber. The matched gloved Nimblefingers and Longfingers are on a chest, and surrounding the room's ashpit are several gems found in few other places: A piece of amber, an amethyst, an aquamarine, some jet, a Khajiit-eye, a bloodstone, a sapphire, a topaz, two spinels and two turquoises.
For such rare treasure, the tomb is only relatively lightly guarded. There are six leveled tomb creatures that may be ghosts, skeletons, bonewalkers or bonelords.