Tes3Mod:Tamriel Rebuilt/Lambinatha
The UESPWiki – Your source for The Elder Scrolls since 1995
Daedric Shrine:
Lambinatha


Added by
Tamriel Rebuilt
# of Zones
2
Daedra Lord
Molag Bal
Occupants
Daedra, Worshippers
Console Location Code(s)
"Lambinatha, Outer Sepulcher"
"Lambinatha, Inner Sepulcher"
Region
Boethiah's Spine,

[24,11]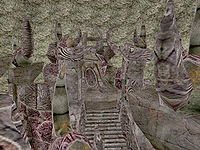 Lambinatha is a hidden daedric shrine to Molag Bal, only accessible through Drenka Cavern.
Immediately in front of the entrance to the Outer Sepulcher is one of the rare dridrea. After fighting past that, there are three leveled daedra, but no treasure whatsoever.
The Inner Sepulcher doesn't have much more in the way of loot either. There is a daedra's heart and a diamond in front of the statue of Molag Bal, both of which are cursed, but that's it. Guarding the shrine is another dridrea, three more leveled daedra and two worshippers. Apart from the chance of obtaining some dridrea silk, there is little of interest in this shrine.
| Name | | Race | Class | Level | Health | Magicka | Alarm | Fight |
| --- | --- | --- | --- | --- | --- | --- | --- | --- |
| Brolfir | | Nord | Warrior | 18 | 202 | 88 | 0 | 30 |
| Serevyne Anim | | Dunmer | Sorcerer | 18 | 131 | 182 | 0 | 30 |