Tes3Mod:Tamriel Rebuilt/Kharalambos Ruin
The UESPWiki – Your source for The Elder Scrolls since 1995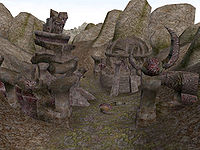 Kharalambos Ruin is a shrine dedicated to Mehrunes Dagon and filled with daedra and cultists.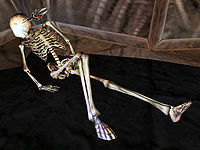 Although not difficult to find, the shrine can be tricky to reach as it is located within a steep-sided canyon. Head west from Baldrahn across the river and into a shallow valley. A short distance into the valley you will see a daedric structure on your right. Levitate or jump over this and the entrance to the shrine will be in front of you.
The shrine contains almost no treasure but two Daedric Darts can be found still embedded in the body of the unfortunate they killed. On the altar to Dagon are a piece of raw ebony and a ruby but both are cursed and will summon an adversary if picked up.