Tes3Mod: Tamriel Rebuilt/Helnim Hall
The UESPWiki – Your source for The Elder Scrolls since 1995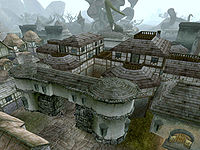 Helnim Hall is a copious castle located in the center of Helnim, the Governor's residence. It is inhabited by the governor of Helnim, Contumious Flavius, and it has everything his corrupt heart desires. The fort is the headquarters of the East Empire Company as well. The fort is divided in four cells.
The main cell is at the ground story and the main hall of Helnim Hall is located here. In the main hall stands the steward, Llethran Narad, who arranges most of the matters in the politics of Helnim. Also in the main cell you can find the treasury, the kitchens, the guard quarters and a small Imperial Cult shrine led by Curo Marinus. The two guard towers at the front of the castle have an interior cell as well, though nothing of any interest can be found there.
The East Empire Headquarters are located in the northern wing of the castle. It is led by Lorus Avius from his large office. The rest of the headquarters consist of a study, sleeping quarters and a small dining room at the top of the wing for the faction members of the East Empire Company.
The largest section of the castle is the Governor's Quarters. You can find a huge dining room, a few exquisite bedrooms and two living rooms in the quarters. You will probably understand why Contumious Flavius almost never leaves his quarters once you have visited them.
The rumors that the Governor is indulged in wine and women is not without truth, if you visit the topmost bedroom in the Governor's Quarters you'll understand why.
If you are a thief, you might want to steal from the treasury. It isn't guarded well, and it contains objects like for example an Adamantium Shortsword.