Tes3Mod:Tamriel Rebuilt/Gorne
The UESPWiki – Your source for The Elder Scrolls since 1995
Gorne, a town mentioned in the Poison Song book series is a serene, if sleepy Indoril community on the island of Gorne, east of the mainland and south of Necrom. Despite its small size, Gorne is notable for being the Sandil clanstead and retirement home, a prominent family in House politics. Ranalith Sandil, retired councilor is the highest Sandil noble living in the town and oversees the farmers and merchants.
Interestingly, Gorne island is virtually free of animals, adding to the serene atmosphere. It is revealed in dialogue that they have recently been hunted to extinction by Silyn Avel.
Getting There and Around
[
edit
]
Gorne can only be reached by ship or with a brisk swim. Regular passenger travel occurs between Gorne and Enamor Dayn.
Places of Interest Around Gorne
[
edit
]
Related Quests
[
edit
]
Miscellaneous
[
edit
]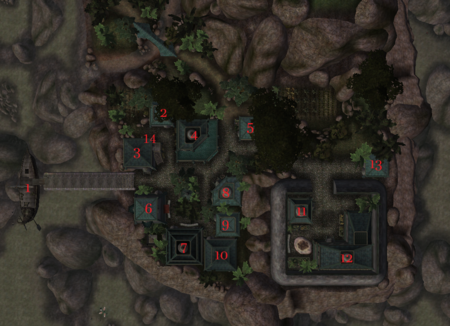 Map Key
1. The Ghostly Lady
2. Fadrel Uvelo's House
3. Bariel: Florist
4. The Emerald Haven Inn
5. Idav Theryn's House
6. Guard Tower
7. Rendays Manor
8. Methalas Eves: General Trader
9. Sadali Rothil's House
10. Velo Valaro's House
11. Tribunal Chapel
12. Sandil Manor
13. Ralis Llarmos' House
14. Daryn Tharis' House