Tes3Mod:Tamriel Rebuilt/Favelnim Ancestral Tomb
The UESPWiki – Your source for The Elder Scrolls since 1995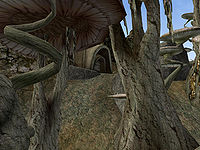 Favelnim Ancestral Tomb is a small ancestral tomb a large distance due west of Port Telvannis, containing undead.
To reach the tomb take the northwest road out of Port Telvannis. Follow the road, through the daedric ruin of Yashazmus, and stop when you reach the small mining village of Nethre-Pulu. Head a short distance due west from here and you will find the tomb under a clump of mushrooms.
This tomb contains four random undead and two skeletons. There is also a moderate amount of treasure, the highlights being three opal stones and one amulet of mighty blows. There are also two shrines, one to the Tribunal and the other to Saint Veloth.