Tes3Mod: Tamriel Rebuilt/Dunada-Nammu
The UESPWiki – Your source for The Elder Scrolls since 1995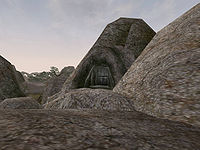 Dunada-Nammu is a burial chamber north of Ranyon-ruhn inhabited by undead. To reach it, head north out of town along the Bosouada and keep an eye on the mountains to the east. A short distance north there is a path leading into the hills; take this and follow it as it turns south. The entrance will be in front of you.
This location is one of the most rewarding treasure stashes on the mainland, but much of the treasure is difficult to reach without using levitation. Not only that, but it is guarded by nine mummies, one of the rarer creatures to be found.
One special piece of treasure is the Sturdy Chest, tucked behind some stalactites in the northwest. It can only be opened with an Ornate Iron Key, but contains a special reward.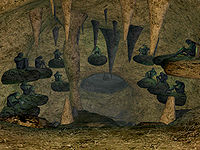 There is so much treasure in the tomb that a full list is impractical, but the highlights are:
A Native Gah'Kogo Tower Shield by the feet of a mummy in the first burial chamber
A Daedric Steel Longsword held by a mummy in the same room.
A Devil Spear held by another mummy in the same room.
A Dwarven Longspear help by the northernmost mummy in the second burial chamber.
An Orcish Spear on a stone shelf in the southwesternmost room.
Two turquoise crystals on the edge of a pool by a skeleton in the center of the chamber.
A black pearl on the edge of a pool above a small chest of gold, toward the north.
A second pearl on a stone shelf in the southwesternmost room, next to the spear.
A chunk of raw gold on the floor by a column in a room near the center.
An opal on top of the column by the gold.
Treasure Hunt: Many interesting items are scattered in hidden locations. Can you find all the treasure chests and get the keys to unlock them?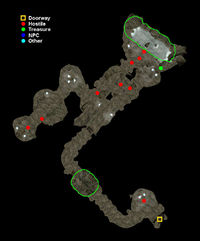 * Note that the areas ringed with green are the burial areas. Each mummified figure has at least one treasure next to it.