Tes3Mod:Tamriel Rebuilt/Duchess Perulia Jandacia
The UESPWiki – Your source for The Elder Scrolls since 1995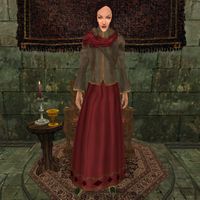 The Duchess Perulia Jandacia is an Imperial noble, Duchess of Firewatch and ruler of the Telvannis District of Morrowind. She brings a typically-Imperial attitude to the mainland, and she cannot understand why the local Dunmer don't appreciate the Empire more.
The Telvanni whom she hypothetically rules have proved particularly troublesome, Jandacia believes they must be educated to respect benevolent Imperial rule, and she often finds herself at an impasse with them. House Redoran, she believes, cling to notions that have no place in the Imperial world, but she tries to work with them as their fighting skills can be of use to the Empire. She believes the Indoril and House Dres are lost in ancient traditions and superstition, and that only House Hlaalu are "what the Dunmer should be".
She has recently invited a representative of the East Empire Company to town to talk business and politics, and also makes use of the local abolitionists. She has no particular interest in the latter group's cause, but has found "cases of mutual benefit" and granted them certain favors. One of those favors might become apparent should you visit one of the local taverns.