Tes3Mod:Tamriel Rebuilt/Insects
The UESPWiki – Your source for The Elder Scrolls since 1995
The mainland of Morrowind is home to several species of insect, from the beautiful to the deadly. A full list of creatures can be found here.
Beetles
[
edit
]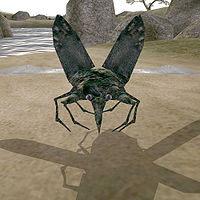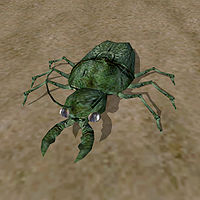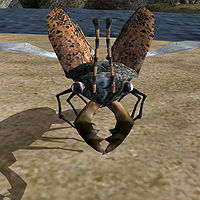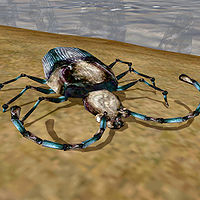 Beetles typically spend their time on the ground, but will take to the air to attack. They are found throughout the Boethian Mountains and are hostile on sight. Beetles may be infected with the disease Collywobbles.
Butterflies
[
edit
]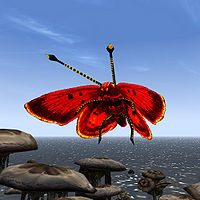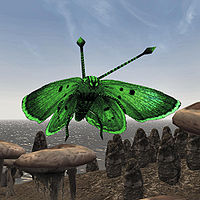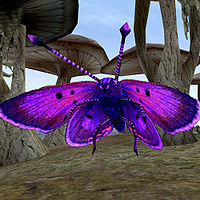 Harmless flying insects that appear in several sizes and colors. They are found all over the mainland, always hovering above the ground.
Creature
Drops
Attacks
Soul
Butterfly


T_Glb_Fau_BflyRed_01

,

T_Glb_Fau_BflyRedBg_01




T_Glb_Fau_BflyRedSm_01

,

T_Glb_Fau_BflyPur_01




T_Glb_Fau_BflyPurBg_01

,

T_Glb_Fau_BflyPurSm_01




T_Glb_Fau_BflyGrn_01

,

T_Glb_Fau_BflyGrnBg_01




T_Glb_Fau_BflyGrnSm_01

Nothing
10
50 (lesser)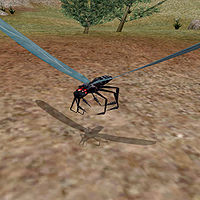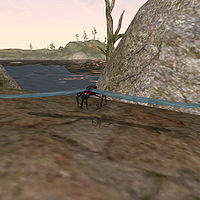 Flying insects that emit a buzzing noise as they move in to attack. These creatures are almost harmless on their own, but can be very annoying in a swarm. They are found almost exclusively in the Boethian Mountains Region, although the residents of Bal Oyra may disagree. Muskflies may be infected with the disease Ticklebritch.
The Swamp Fly is a unique creature found only in cell [36,2] of the Boethian Mountains. Its appearance is identical to that of a Muskfly
Creature
Drops
Attacks
Soul
Muskfly


T_Mw_Fau_Muskf_01

,

T_Mw_Fau_MuskfRn_01




TR_cr_BOmuskfly

,

TR_cr_BOmuskfly2

Raw Musk
20
10 (petty)
Diseased Muskfly


T_Mw_Fau_MuskfDs_01

Raw Musk
20
10 (petty)
Swamp Fly


T_Mw_Fau_Swfly_01

Nothing
20
10 (petty)
Parastyli
[
edit
]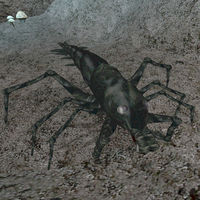 The Parastylus arguably stretches the definition of "insect", as it seems to have eight legs rather than the requisite six. The front pair, however, seem to be more concerned with attack than locomotion and could be an evolutionary development along the lines of the Horned Beetle's horns.
In any case, parastyli are rare, being found only in Jenigan Cave, Shasharanit and Manabilu Grotto. Diseased variants may infect their victims with Bonebreak Fever, Red Death or Red Rage; diseased venomous parastytli are also infected with Blood Lung.