Tes3Mod:Tamriel Rebuilt/Dim-Dai
The UESPWiki – Your source for The Elder Scrolls since 1995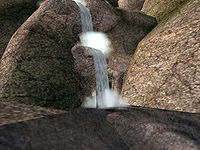 Dim-Dai is a small cave southeast of Hesadsadshamallu on Aegondo Point.
Follow the coast southeast to the second waterfall and look behind it for the cave entrance. The cave is in two parts: a standard smugglers' den and an underwater grotto.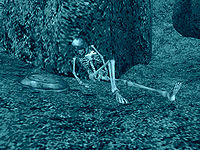 The dry section of the cave contains almost no treasure at all. Their loot, of moon sugar, food, gold and weapons is stashed in a dry area reached only by taking the plunge in the river that crosses the cave. At the end of the underground river is the corpse of an adventurer. He still wears his helmet, while his shield is by his side and his Imperial broadsword lies a short distance away. Even though his remains are underwater, the cause of death doesn't seem to have been drowning, but rather the steel dagger of swiftblade thrust through his chest.