Tes3Mod:Tamriel Rebuilt/Deshaan Plains
The UESPWiki – Your source for The Elder Scrolls since 1995
The Deshaan Plains are flat, salty, and hostile. House Dres claims this territory as their homeland, from which they extend their influence east and north. The plains are riddled with crevasses and sinkoles and home to vicious skyrenders and xenophobic Dres. This region produces the majority of the saltrice consumed in Morrowind. — Tamriel Rebuilt
●

Deshaan Plains Weather Table

●

●
Clear
50%
●
Thunder
0%
●
Cloudy
40%
●
Foggy
0%
●
Ash
0%
●
Blight
0%
●
Overcast
5%
●
Rain
5%
●
Snow
0%
●
Blizzard
0%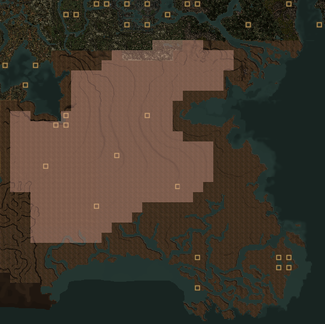 Deshaan Plains is a flat and salty region in the Deshaan District of Morrowind.
Its largest settlement is Dres Horak. The region borders Aanthirin to the northwest, the Thirr Valley to the west, Shipal-Shin to the southwest, the Salt Marsh to the south, the Mudflats to the east, and Lan Orethan and Alt Orethan to the north.
It has not been officially released.
Unreleased Places
[
edit
]
These places are planned, in development, or partially complete and available through TR_Preview. Due to the ever-changing nature of unreleased content, only major locations on the concept map are listed here.
Settlements
[
edit
]
Cities (Tier II)
[
edit
]
Outposts (Tier V)
[
edit
]
Dres Bashipal
Dres Felyon
Dres Hairab
Dres Lhendal
Dres Silnim
Dres Sul
See Also
[
edit
]