Tes3Mod:Tamriel Rebuilt/Darano Ancestral Tomb
The UESPWiki – Your source for The Elder Scrolls since 1995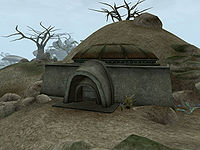 Darano Ancestral Tomb is a large ancestral tomb due north of Tel Muthada containing undead and slaughterfish.
To reach the tomb follow the road which leaves Tel Muthada from the northwest. Keep following the road until it turns to the north. Follow this turn as the road skirts the base of the hills. Keep your eyes peeled for the tomb, which should appear on your right (to the east). The tomb has a distinctive dome above the entrance, which should be visible from the road.
The tomb consists of two zones. The first zone contains eight undead and one sea creature in the flooded section. The only piece of treasure of note is an amethyst next to the ash pit. The second zone contains four undead and three sea creatures. There is a good amount of treasure in this zone including: a copy of King Edward, part VI, an amulet of opening, a scroll of grey fate and a master's lockpick. There is another door at the end of the hallway opposite the entrance which leads back to the flooded section visible from the balcony from the first zone. Another door at the end of the flooded section leads back to the second zone, although this corridor is blocked with rubble.