Tes3Mod:Tamriel Rebuilt/Daranith Ancestral Tomb
The UESPWiki – Your source for The Elder Scrolls since 1995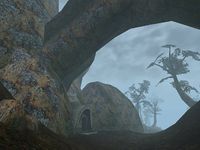 Daranith Ancestral Tomb is a medium-sized ancestral tomb far northwest of Ranyon-ruhn inhabited by undead.
To reach the tomb take the road which leaves Ranyon-ruhn from the west, and then take the turn to the north. Keep following this road until you reach the tomb, which is under a stone arch at the side of the road.
This tomb can be especially dangerous to the unwary. To the left of the entrance is a pit which drops down five stories and lands you in front of three greater bonewalkers. There are nine undead altogether scattered about the tomb. Overall this tomb is a lot more vertical than it is horizontal, going down five stories from top to bottom. The most valuable treasures, a sapphire and copy of King Edward part X, are found on the bottom floor.
Daranith seems to be a somewhat large mainland family. There are three living members: Folsa Daranith, a commoner living in an isolated camp south of Tel Mothrivra, and Goren Daranith and Urelan Daranith, who are both commoners living in Helnim.