Tes3Mod:Tamriel Rebuilt/Aviroth Ancestral Tomb
The UESPWiki – Your source for The Elder Scrolls since 1995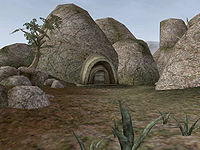 Aviroth Ancestral Tomb is a small ancestral tomb due north of the Telvanni quarter of Helnim, inhabited by undead.
Despite the tomb being quite close to Helnim, reaching it can be tricky due to the towering cliffs separating the two. The easiest way is to follow the dirt path which leaves the Telvanni quarter of Helnim from the northwest, which hugs the base of the cliffs. Continue following this path until it turns to the east. Follow it until a break in the cliffs is visible to your right (towards the south). Follow this small valley until you reach the tomb, which is found about halfway along and at its center.
This tomb contains mediocre treasure, with just a few potions and one small chest. It is sparsely guarded, with only three undead in the two side rooms. One thing of note is the shrine of St. Veloth, which is found in the hallway opposite the door through which you first enter the main room.