Tes3Mod:Tamriel Rebuilt/Asnadan
The UESPWiki – Your source for The Elder Scrolls since 1995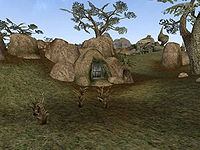 Asnadan is a medium-sized cave southeast of Helnim infested with daedra and containing the lair of a former wizard.
Take the eastern path out of Helnim and at the first point it jinks north, head southeast into the hills instead. The entrance to Asnadan should appear in front of you.
In the cave's lowest levels there is a large canvas tent filled with all the tools of a dark wizard: alchemical equipment, books, potions and ingredients, including two portions of the rare Human Flesh. There are also four scamps, one of which is already mysteriously dead.
Outside the tent there is no other treasure although the tunnels are guarded by more daedra. At the end of one passageway lies a lonely skeleton; presumably the remains of the wizard or one of his victims.