Tes3Mod:Tamriel Rebuilt/Adunji
The UESPWiki – Your source for The Elder Scrolls since 1995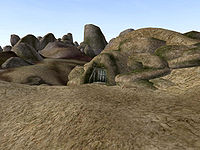 Adunji is a small smugglers' cave south of Baldrahn.
The cave is not difficult to locate; simply head south from Baldrahn and the looming ruins of Nchazdrumn. The entrance is on a low hillside.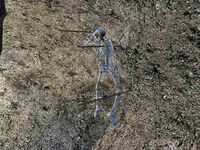 Inside the cave contains the usual smugglers' booty, with moon sugar and Cyrodiilic brandy both plentiful, and the usual weapons and armor scattered around in crates. The three inhabitants evidently keep their lair secure, as evidenced by the remains of one luckless adventurer, found pinned to the cave wall by three spears and with a dagger in his skull.