Tes3Mod:Tamriel Data/Daedric Bat Eye
The UESPWiki – Your source for The Elder Scrolls since 1995
Daedric Bat Eye


T_IngCrea_DaedricBatEye_01

25
0.4
Alchemy Effects
1st
 Night Eye
2nd
 Detect Animal
3rd
 Levitate
Sources
# Samples
8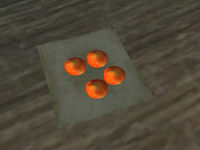 As the name suggests, Daedric Bat Eyes are obtained from the corpses of daedric bat creatures. These shining orbs have useful magical properties which make them valuable to every alchemist.
Guaranteed samples are found in the following locations:
They are also found in the following leveled lists:
This ingredient used to drop from Daedric bats, batfiends, and batlords until they were removed from the mod.