Tes3Mod:Tamriel Data/Aquamarine
The UESPWiki – Your source for The Elder Scrolls since 1995
Aquamarine


T_IngMine_Aquamarine_01

100
0.2
Alchemy Effects
1st
 Drain Health
2nd
 Cure Poison
3rd
 Water Breathing
4th
 Weakness to Frost
Sources
# Samples
36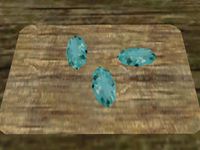 Aquamarine is a form of beryl with a distinctive turquoise color. It is typically found in granite outcroppings.
It can be found in the following locations:
Port Telvannis, Telvanni Council House: Vaults (×13)
Ebon Tower, Palace: Treasure Chamber (×2)
Helnim, Dremil Seniran: Jeweler (×2)
Karthwasten, Red Palace, Vault (×2)
Vorndgad Forest Region [-103,13]SHOTN (×2, in hidden stash)
Ebon Tower, Mara's Tower: Chamber
Necrom, Relor Savani's House (small chest)
Old Ebonheart, Anjzhirra's Rare Goods
Old Ebonheart, Hecath's House
Ranyon-ruhn, Catacombs: Inner Sanctum
Vorndgad Forest Region [-101,11]SHOTN
It is also found in the following leveled lists:
Cursed Variant
[
edit
]
A cursed variant that spawns a Dremora Lord when picked up exists with id T_IngMine_AquamarineDae_01.
Guaranteed samples can be found in the following locations:
It is not found in any leveled lists.
The icon and model used to be a whiter color.