Skyrim:Whiterun Military Camp
The UESPWiki – Your source for The Elder Scrolls since 1995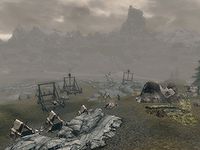 Whiterun Military Camp is a Stormcloak camp set up just outside the city, for the battle for control of Whiterun.
The camp is located just east of Pelagia Farm, and just west of the Honningbrew Meadery. It is used as a final staging area for the battle and is also where the Stormcloaks' catapults are stationed and fired from.
Residents
[
edit
]
†
This person only resides here during the related quest.
Related Quests
[
edit
]
Whiterun Military Camp
[
edit
]
As soon as you arrive during the quest the camp is in an uproar, with the catapults firing flaming missiles at Whiterun. The camp consists of a command tent occupied by a Stormcloak Soldier studying a tactical map of Skyrim on a wooden table. Outside are four small one-man tents, while to the right of the command tent is a campfire with three more small one-man tents in a row nearby. None of the small tents have bed rolls or hay piles to sleep on. There are three catapults, each manned by a single Stormcloak soldier. The catapults can be used by activating them to fire and reload. To the west of the main camp Galmar Stone-Fist is giving a motivational speech to a group of ten Stormcloak soldiers.
The camp will appear at the beginning of the quest Battle for Whiterun regardless of the side chosen in the civil war, but a map marker will only be added if siding with the Stormcloaks. In that case it is immediately listed as discovered, meaning you can fast travel there straight away.
There is a corundum ore vein a few steps southeast of the large tent.
After the battle, the camp's map marker will be removed, but the camp itself won't be disabled, it will remain, even if the Empire wins, along with a single, non-hostile Stormcloak Soldier inside the main tent.