Skyrim: Sven and Hilde's House
The UESPWiki – Your source for The Elder Scrolls since 1995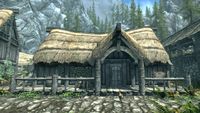 Sven and Hilde's House is a small residence at the western end of Riverwood, located next to the Riverwood Trader.
It is the home of Hilde and her son Sven, the local bard. It consists of one zone, Sven and Hilde's House.
Residents
[
edit
]
* Becomes a follower only if the related quest is completed in his favor
Related Quests
[
edit
]
Note: This location is one of many potential targets for one or more of the radiant quests found on this page.
Sven and Hilde's House
[
edit
]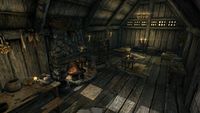 It is a one-room house with no dividing lines between the areas. Straight ahead is the fireplace with a cooking pot and a kettle containing two leeks at its base, and a respawning meat barrel to the right. To the left of the door is a chair, a few barrels, and a non-respawning cupboard in the corner with a respawning food barrel nearby. To the left of the fireplace is a table with a bucket containing two potatoes, one bottle each of Nord mead and alto wine, and two leveled one-handed weapons—a sword and a mace. Both weapons can be up to elven quality at level 23. Hanging above the table are harvestable ingredients and raw food. There is one dried frost mirriam, two portions of dried elves ear, three garlic braids, three rabbits, and three pheasants.
To the right of the door is a non-respawning dresser with a bottle of Black-Briar Mead, two samples each of elves ear and frost mirriam, and four garlic bulbs sitting on it, along with a respawning food barrel beside it. Hanging above the dresser is another set of harvestable ingredients—one dried frost mirriam, one dried elves ear, and three garlic braids. There is a small table with two chairs in the middle of the house by the fireplace, which serves as the dining table; it is set with one bottle each of wine and alto wine, as well as one loaf and one piece of bread. The shelves to the right of the fire contain some general household items, and four bottles each of wine and alto wine. There are two owned beds by the far right wall. The bed with a chest (non-respawning) at one end is Sven's and the one without a chest is Hilde's. Between the beds is a non-respawning end table holding one bottle of Nord mead.
The front door has a novice-level lock, the key to which is carried by both Hilde and Sven.
After completing the quest A Lovely Letter in Sven's favor, all low-value items become free to take, and both beds become usable.
There is a tanning rack to the right of the front door, as well as two respawning food barrels a short distance to the left. Another two respawning food barrels can be found behind the house, in the east corner.