Skyrim:Stormcloak Soldier
The UESPWiki – Your source for The Elder Scrolls since 1995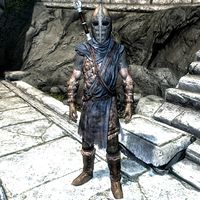 Stormcloak Soldiers can be seen throughout Skyrim in Stormcloak camps, patrolling roads and occupying forts. They are the main troops of the rebellion and can also serve as guards in controlled regions. If you have yet to take a side in the civil war, they will recommend that you join the rebellion in Windhelm. However, if you have joined the Imperial Legion, they will demand that you move along, threaten you, and if you linger for long enough, they will attack. They may carry any iron or steel weapons, and wear Stormcloak armor.
A Stormcloak soldier can also be seen being escorted by three Imperial soldiers as a prisoner. If you talk to him while his hands are bound (whether the Imperial soldiers are still alive or not) he will offer you three choices: do nothing, let him go, or give him something (he will equip any weapons you give him, but not armor). If you let him go or give him something, his captors will try to kill him (if they are still alive). He will likely be killed if you don't help, due to having no armor and facing three well armed soldiers (they will also be hostile to you). If he is alive and unbound, and the Imperial soldiers are dead, he will set off for Windhelm. If he makes it there, he will disappear upon using the main gate.
Quest-Related Events
[
edit
]
When interacted with they can say:
"You must be the new unblooded. Welcome to the fight, brother/sister."
"I don't know what we're doing here, but orders are orders."
"I keep thinking I see something moving in the shadows…"
"What are we waiting for?"
"I hope we don't run into anything worse than Imperials in here."
"Keep a sharp eye out."
"I don't know what we're doing here. Ulfric must have his reasons."
"I wish Galmar would hurry it up. We shouldn't be here."
"At least we got the damn crown. I hope it was worth it."
Stormcloak Soldier 1: "What in the nine holds is that?" (Noticing a dead draugr)
Stormcloak Soldier 2: "Draugr. Ain't you ever seen one before?"
Stormcloak Soldier 1: "No. And I'm not sure I'm better off for it now neither."
Galmar Stone-Fist: "Steady. A few dusty bonewalkers aren't going to stop us anymore than the Imperials could. We're not leaving until we get what we came for. Now let's keep moving."
Galmar Stone-Fist: "I don't like the look of this. Perfect spot for an ambush. Ten to one they're just waiting for us on the other side."
Stormcloak Soldier: "But there isn't any other way through."
Galmar Stone-Fist: "You sure about that? Then please, be my guest and go strolling on in there. We'll stay here and watch your back... Not so sure? Oh, then perhaps we should take a moment to look around a little, eh? You there, Unblooded, see if you can find another way through. We'll charge in to help as soon as we hear fighting."
If the player joins the Imperial Legion and heads straight to Korvanjund without speaking to Rikke, the Stormcloak Soldiers there won't be hostile and can be interacted with:
"Nobody allowed in. Ulfric Stormcloak's orders. Consider yourself warned."
Finding another way through with the Imperial Legion you can overhear:
Stormcloak Soldier 1: "You hear anything?"
Stormcloak Soldier 2: "No, but I know they're out there. No other way they can come. Now shut up or you'll blow our ambush."
Stormcloak Soldier 1: "I don't like it. What are they waiting for?"
Stormcloak Soldier 2: "Maybe they're so scared of you they ran away."
Stormcloak Soldier 1: "Hardly likely."
Stormcloak Soldier 2: "Just shut up and keep out of sight."
When the battles for Solitude and Whiterun have ended the soldiers can say:
"Can't wait to kill another Imperial."
"We sure showed them!"
"They'll think twice before coming back here, that's for sure!"
"We did it!"
"I feel so alive!"
"We showed those Imperials what real Nords are made of!"
"We sure showed them, eh? Thanks for your part in all that."
"Good job out there. Glad you were with us."
"Thanks. Couldn't have done that without you."
Dialogue
[
edit
]
"If you know any true sons and daughters of Skyrim, tell them to head to Windhelm. Ulfric Stormcloak wants to see them." (If the player hasn't joined the Imperial Legion or the Stormcloaks.)
"Think you might be in the wrong place, friend." (If the player hasn't joined the Stormloaks.)
"Hey, Unblooded."
"If it isn't Ice-Veins. Hi there."
"Bone-Breaker."
"Snow-Hammer."
"Stormblade. It's an honor."
"Damn faithless Imperials."
"Next Imperial I see is dead."
"We'll show those faithless dogs who this land belongs to."
"Keep your eyes open."
"Fight or die well."
"Talos guide you."
"I'll fight the entire Legion myself if they dare show their faces here."
"Legion soldiers gleam like fresh-fallen snow and clank like a kitchen. They head this way, we'll know it."
"I long to be out there, with my brothers, waging war against the Empire."
In combat they can shout:
"Die dog!"
"A pox on the Empire!"
"I'll water the ground with your blood."
"For the sons of Skyrim!"
"Talos smite you!"
Conversations
[
edit
]
Stormcloak Soldier 1: "So, why'd you join the Stormcloaks?" OR "So what's your story?" OR "What are your thoughts on all this?"
Stormcloak Soldier 2: "My cousin disappeared one night. Some say the Thalmor grabbed him. It wasn't long before I found myself under Ulfric's banner." OR "I don't want some snotty elf telling me what gods I can and can't worship. " OR "I'm a true Nord. Simple as that."
Stormcloak Soldier 1: "Hope I don't draw guard duty." OR "I bet we have rabbit again. I'm getting sick of rabbit." OR "We're running out of bread. I hope the supplies get here soon."
Stormcloak Soldier 2: "You'd rather be plowing a field? Not me." OR "Go tell the commander. I'm sure the boot in your arse will take your mind off your troubles." OR "You must be all right if you've got time to complain."