Skyrim:Sanguine Rose
The UESPWiki – Your source for The Elder Scrolls since 1995
Daedric Artifact: Sanguine Rose

(

00

01cb36

)


(lore page)
Type
Staff
Editor ID
DA14SanguineRose
Statistics
 Weight
10
 Value
2087
Enchantment
Charge/Cost = Uses
3000/215=13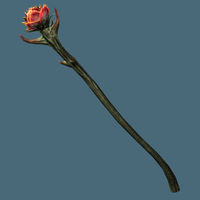 Sanguine Rose is a staff received after winning a drinking contest with Sam Guevenne in A Night To Remember, or at least after you put together what happened the night before and find him again. It will summon a Dremora to aid in your fights for 60 seconds.
Related Quests
[
edit
]
If you kill the Dremora it will not drop a Daedra Heart.
If you've given the staff to a follower, they may use it. However, if you accidentally attack the summoned Dremora, it will retaliate unless you sheathe your weapon.
The Dremora summoned is leveled according to the chart at the right.
As of version 1.5, the staff now benefits fully from Conjuration perks (but only the ones that also affect conjured Dremora Lords).
If you have the Conjuration perk Elemental Potency the dremora will no longer summon.