Skyrim:Rakel
The UESPWiki – Your source for The Elder Scrolls since 1995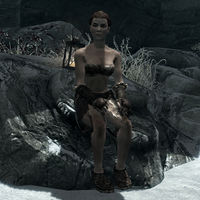 Rakel is a Nord werewolf living under Frostmoon Crag. She is a member of the Frostmoon Pack.
During your first visit there, she will come up to you and keep you away from their pack. "Hold, traveler. You have no business here." If you are not a werewolf, she will ask you to go away and leave them in peace. "We mean you no harm, but... be on your way." She can also recognize you as a werewolf. "...Wait. You... you're one of us, aren't you? A werewolf?" Then she will introduce the Frostmoon Pack to you and welcome you as a brother or sister. "Then perhaps you do have business here... Forgive me. I'm Rakel, of the Frostmoon Pack. Welcome, brother/sister." You may ask her about her story then. "Since I was born. My parents were members of the pack, back when Majni's father was Alpha. After they died, Majni and Akar took care of me, taught me to hunt. I'm not as good as they are, but... I do my best." You may also ask her opinion about moving to a city. She will tell you "Why? Have you seen how they live? They cower behind their walls, afraid of every ash hopper, every netch! No, I'd rather be here. Free to hunt, free to live my life as I choose."
Rakel wears fur armor along with a pair of fur bracers and a pair of fur shoes. She wields a leveled bow with leveled arrows or a leveled dagger in combat.
Related Quests
[
edit
]