Skyrim:Narri
The UESPWiki – Your source for The Elder Scrolls since 1995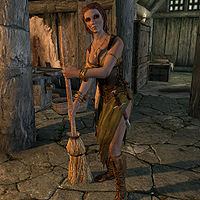 Narri is a Nord citizen who works at the Dead Man's Drink, an inn located in Falkreath. She works for Valga Vinicia.
Narri wakes up at 9am, and immediately heads outside, relaxing just outside the inn. Then, at 5pm, she heads back in the inn, working until 1am, when she finally goes to sleep.
Narri wears a set of tavern clothes and a pair of boots. She is equipped with an iron dagger, and carries a key to the inn as well as a selection of common loot and gold.
When speaking to a male character she will frequently remark: "Shor's bones! A handsome man in Falkreath!" If you're a female character, she'll say, "You're going to have the men around here wrapped around your finger in no time." She seems rather bored in Falkreath, often saying, "I've half a mind to ask if you'll take me on one of your adventures, but I can't just leave Valga on her own." and "Not much exciting happens around here. You're as like as not to be bored to death if you stay too long." She may also say, "A strong drink will chase off that chill in the air." In the inn, she will also say, "Anything I can get you?" and "Can I get you a drink?"
She can often be seen conversing with other Falkreath citizens:
Narri: "At some point we should hire Tekla on here. If she could just spend less time serving Dengeir..."
Valga: "I wish I could afford to pay you both, Narri. I really do."
Dengeir: "Narri! This mead tastes like water and the meat has gone off."
Narri: "The mead is same as it ever was and the meat is fresh, maybe your sense of taste has "gone off.""
Dengeir: "The impertinence! You never would have talked to me like that when I was Jarl."
Narri: "We had this same argument every week, even when you were Jarl."
Bolund: "Hey gossip, bring me a drink."
Narri: "Bolund, you're going to die of thirst if you keep calling me that."
Tekla: "Narri, do you think the war will ever end?"
Narri: "I think the war is just an excuse. If it does end there will be a new reason and a new place."
Tekla: "But what about the banning of Talos worship? Isn't that worth fighting about?"
Narri: "I don't know about you, tekla [sic], but all my prayers are silent and who I pray to is still my own to decide."
Narri, as part of the Server faction, is supposed to trigger the option to buy food from her menu when you take a seat inside the inn; however, due to a faulty script, such option is not available, so she'll keep asking you if you would like something to eat, with no possibility to reply.