Skyrim:Jayri
The UESPWiki – Your source for The Elder Scrolls since 1995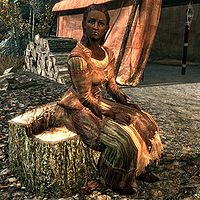 Jayri is a Redguard camped out in Dayspring Canyon. She came to Fort Dawnguard for protection from the vampires, but the Dawnguard won't let her in. She shows up in the canyon during the quest Beyond Death.
Like the other refugees, Jayri can do very little in the camp and will just wander around, at times using the wood chopping block or the cooking pot. She never sleeps. She wears farm clothes and a pair of boots.
When approached, she will complain: "Look at the size of that fort. They must have room for a few more in there." and will reflect on the situation with: "I worry it'll never be safe to go home.", "It's not safe out there. Horrible creatures attacking towns in the night... If they won't let me in, at least I can stay here." and "If the Dawnguard can't stop these vampires, who can?"