Skyrim:Fugitive
The UESPWiki – Your source for The Elder Scrolls since 1995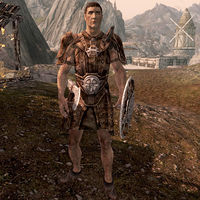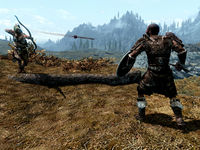 The Fugitive is an Imperial bandit who can be randomly encountered in the wilderness. He will give you an item—which is usually enchanted—on sight. He will tell you not to reveal his location and flee, if you didn't kill him before. Later there will appear a hunter, who asks you if anyone has come by. You have the options to lie to him and to deny that there was anyone or to tell him where the fugitive has gone or to give him the item, which isn't very profitable at the end. For the highest profit you may choose the second option, letting the hunter kill the fugitive and then loot his body.
Similar to other bandits, his equipment includes leveled light armor, a leveled one-handed weapon and shield. He also carries a random selection of items that bandits have with them.
The fugitive will run up to you, saying, "Take this and hold onto it. I'll be back for it later. I'll pay you good. Don't lose it." and leaving you with the item he stole. If you express confusion or demand explanation, he will only respond, "No time to talk. Snitch or double-cross me and I'll kill you. I mean it!" Afterwards, he will try to avoid the hunter.