Skyrim:Forgotten Vale Forest
The UESPWiki – Your source for The Elder Scrolls since 1995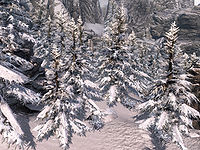 Forgotten Vale Forest is a small forest which can only be accessed using the Paragon Portal in the Forgotten Vale, with the ruby paragon. Auriel's Shield can be found here.
Walkthrough
[
edit
]
Exterior
[
edit
]
The exterior to this grotto is the Forgotten Vale. This area is located far north of the main parts of the Vale and can only be accessed using the ruby paragon at the paragon platform. It transports you to the small sunken area of forest surrounded by tall rock walls.
Forgotten Vale Forest
[
edit
]
Upon arriving, behind you is the portal that will return you to the paragon portal, between two broken pillars that were part of the original arch. There doesn't seem to be a proper path through the trees, and due to the density of the snow and trees it can be quite difficult to see any frost trolls as you approach. Use of the Detect Life spell or the Aura Whisper dragon shout can help greatly. There are up to six frost trolls found in the woods. Eventually you will encounter a Falmer Warmonger either battling some of them or having defeated them, wandering near an unlocked stone chest. The Falmer is carrying the unique Auriel's Shield and will attack as soon you are spotted. The chest is located on a rise near the southwest wall, by the remains of another arch, with a skeleton that can be looted lying on the ground in front. A flight of stairs lead down on the right towards where part of the surrounding wall overhangs, and where you are normally able to find one or two frost trolls. The only other items found within the forest are three snowberry bushes and some broken masonry.
Once you're done, just head east and you'll reach the portal.