Skyrim:Enthralled Wizard
The UESPWiki – Your source for The Elder Scrolls since 1995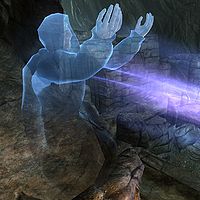 These Enthralled Wizards are Nords found in Labyrinthian during The Staff of Magnus.
They wear hooded black mage robes and warlock boots. They each wield a leveled dagger (up to glass in quality) and may drop a scroll and potions when killed. Oddly, they can cast Vampiric Drain against you despite not being vampires.
Both enthralled wizards in Labyrinthian join together to cast an energy barrier to shield the dragon priest Morokei during the related quest. In order to defeat Morokei and complete the quest, you must attack them to interrupt their casting. It is later revealed that they were the two companions (Atmah and Hafnar Ice-Fist) Savos Aren entered the chamber with, and that he sacrificed them to keep Morokei contained.
Related Quests
[
edit
]
Their extraordinarily high magicka allows them to cast Vampiric Drain for over 55 minutes.
A separate NPC named "Enthralled Wizard" can be found in game-data, but is not used anywhere in the game. Information on this NPC can be found on the Unused NPCs page.
Both ghosts are male despite one supposedly representing Atmah, a female.
One of the ghosts (F7385) bleeds and has a class of Dragon Priest.

This issue has been addressed by version 1.2.4 of the Unofficial Skyrim Patch; it no longer bleeds and has the same Bandit Wizard class as the other ghost.