Skyrim:Duach
The UESPWiki – Your source for The Elder Scrolls since 1995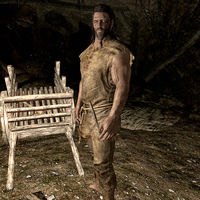 Duach is a Breton witchblade held prisoner in Cidhna Mine. It is unknown exactly how long he has been there, but it is believed that it has been around seven years since he has seen daylight. He will make no secret of his hatred for the Nords.
He also has a bottle of skooma with him that Grisvar the Unlucky asks you to take in exchange for a shiv.
Related Quests
[
edit
]
Quest-Related Events
[
edit
]
No One Escapes Cidhna Mine
[
edit
]
When approached he can say:
"Whenever I get out of here, I'm going to go kill a Nord."
"Other prisoners get suspicious when we talk to each other, so keep it down."
You will need to get skooma off of him to get the shiv from Grisvar:
I hear you have some skooma.
"You give me one more look, and I cut you open. That Skooma's mine."
Never mind.

"Smart."
I need some. Badly. (Persuade)

"Getting the shakes, huh? All right. Take it. Old gods keep you." (Success)
"Skooma addict. Get lost." (Failure)
Hand over the skooma. (Intimidate)

"Easy there. I didn't mean nothing. Take it." (Success)
"That's it." (Failure that will lead to a brawl)
After this little fight if you failed to intimidate him, he will be rather annoyed and mumble:
"Damn addicts always stealing from me. Here. I hope you choke on it."
He can be asked questions about himself:
How long have you been here?
"Year seven, I think? Surprised I haven't cut my own throat out by now, but something keeps me going."
What are you in for?
Whilst escaping the mine, if you speak to him he will say:
"Come on, move it. We have Nords to kill."
Duach knows the following spells: