Skyrim:Darkfall Grotto
The UESPWiki – Your source for The Elder Scrolls since 1995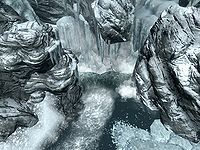 Darkfall Grotto is a small cave found in the Forgotten Vale that is dominated by a roaring underground river.
This cave is quite dark, so be sure to bring some source of light if you don't have a form of night vision.
Walkthrough
[
edit
]
Exterior
[
edit
]
The exterior to this grotto is Forgotten Vale. This cave can be accessed either by using the amethyst paragon at the paragon platform or by following the frozen river south, past the Wayshrine of Learning, and jumping down the waterfall at the end. Jumping down the waterfall causes you to fall a very great height (at least ten stories) and landing in the river below. You will need to surface quickly and swim to shore, otherwise you'll be swept away by the incredibly powerful current. When you fall in, Serana will exclaim: "Ugh, I told you! Next time I say to please not go over a waterfall, maybe you'll listen to me."
Darkfall Grotto
[
edit
]
Using the paragon will transport you on top of a rock pillar with a matching portal near the western wall. In front of you is an unlocked stone chest under a glowing mushroom, with a random potion beside it. Your only way to reach the cavern floor is to drop either into the water and swim quickly to shore or use the Become Ethereal dragon shout and drop directly onto land below. You can also use the portal to return to the paragon platform.
You can drop at the western end of a U-shaped stretch of land, that curves behind the falls. As the path turns north you'll find the corpse of a Falmer lying on the ground. To the east is a small Falmer settlement consisting of a couple of Falmer tents. They each have a body of a dead Falmer in front and inside both tents is a Falmer chest. To the left of the second tent, against the northern wall, by a glowing mushroom that may be difficult to interact with, is a ramp leading to one of several ledges that ultimately lead up to the eastern wall where another body of a dead Falmer is found between two more glowing mushrooms, beside a Falmer chest containing quality loot. Heading north, but staying on the same level as the first two tents lead to a third tent with yet another dead Falmer in front and a Falmer chest beside it. From here you can also look down on an area where three Feral Falmer and a chaurus hunter are roaming. There is a ramp leading down where the shoreline turns north, marked by another glowing mushroom near the ground. There is yet another dead Falmer lying on the path. There are two empty tents against the north wall with three dead chaurus between them. It is possible to reach several additional ledges, especially the one behind the last two tents, however they are all empty. The main difference between Falmer and feral Falmer is feral Falmer don't wear armor or use weapons other than their claws.
The only way out is to jump into the river and let it sweep you away, descending several waterfalls before finally falling into the cloudy lake in the last cavern within Darkfall Passage. Return to the wayshrine that will now have portals to all other wayshrines you've raised in addition to the portal to Forgotten Vale.
Be careful if you're trying to jump down the waterfall. If you aren't careful, you can smash against the rock wall behind the falls and die.
Watch out for the river; your follower can fall in and be swept away, into Darkfall Passage.
It is possible to get stuck in the river near the walls when intending to leave. ?

Conjuring a frost atronach, attacking it, and getting it to knock you free may work.
Using "bats" as a Vampire Lord may also be useful.