Skyrim:Beast Stone
The UESPWiki – Your source for The Elder Scrolls since 1995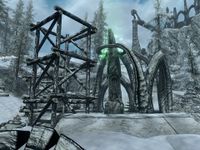 The Beast Stone is an All-Maker stone west of Thirsk Mead Hall.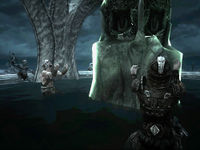 Once cleansed, this stone gives you the power to summon a werebear to fight alongside you for 60 seconds. Once you use this power, it disappears from the Powers menu, and you must return to the Beast Stone to obtain it again.
Related Quests
[
edit
]
Beast Stone
[
edit
]
The stone shows the usual signs of construction, with wooden scaffolding on the southeast side, and pickaxes, shovels, hammers, and carts in the vicinity. Several nightshade plants and blue mountain flowers grow around the stone. Paths lead southeast to Thirsk Mead Hall and west to the Temple of Miraak, with a branching path leading north-northeast to the Wind Stone.
Before you cleanse the stone, a leveled cultist will attack as you approach. During the day, two rieklings will be working on and bowing to the stone. During the night, three more rieklings and Elmus will also be found at the stone, and after you witness the dialogue between Bujold the Unworthy and Kuvar at Bujold's Retreat, Bujold, Halbarn Iron-Fur, Hilund, and Kuvar will be found here as well. When you cleanse the stone, a leveled lurker will rise from the water around the base of the stone (or possibly appear on the nearby hill) and attack you and the workers. After the lurker is defeated, the rieklings will remain near the stone for a short time, then leave; however, if you linger for too long, they may eventually attack.