Skyrim:Alternative Armors - Daedric Mail
The UESPWiki – Your source for The Elder Scrolls since 1995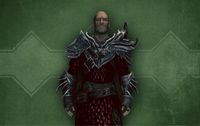 Alternative Armors - Daedric Mail is a Creation that adds an alternative variant of Daedric armor that is based on the style found in Blades.
Official Summary
[
edit
]
Includes three pieces of light Daedric armor as featured in The Elder Scrolls: Blades! Quest by Kris Takahashi.
Overview
[
edit
]
In the quest Missing Merchant, you will be tasked with investigating the disappearance of merchant Gunther Frost-Foot, last seen in the area of Traitor's Post east of Windhelm. The post, a destroyed cabin, is currently home to a gang of bandits led by a Breton female named Erwan. Upon killing and looting Erwan, the quest objective will update to reading her journal. Erwan, it seems, is quite disturbed, and currently considers the corpse of Gunther to be her "best friend". She mentions in passing that she sold a suit of Daedric Mail armor to a Khajiit caravaner named Ma'dran, but that he should be willing to trade the armor for a ring she currently possesses. Upon tracking down Ma'dran, the player then has the choice of either trading the ring to him or paying 5000 gold for the armor.