Skyrim:Aetherial Shield
The UESPWiki – Your source for The Elder Scrolls since 1995
Artifact: Aetherial Shield

(

xx

005759

)



Type
Heavy Shield
Added by
Dawnguard
Editor ID
DLC1LD_AetherialShield
Statistics
 Rating
26
 Weight
12
 Value
2000
Tempering
Dwarven Metal Ingot
Perk
None
Enchantment

Enemies struck by this shield become ethereal for 15 seconds, making them unable to attack or be attacked.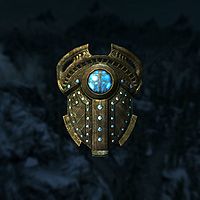 The Aetherial Shield is made at the Aetherium Forge as one of three possible rewards for Lost to the Ages. It turns enemies ethereal for 15 seconds when bashed so they cannot be harmed or harm you, and also causes them to flee in fear.
To make the Aetherial Shield, you must have (in addition to the Aetherium Crest):
Related Quests
[
edit
]
The enchantment is useful for when you don't want to engage in combat, or need to escape from a higher level enemy that you cannot defeat. Bashing them with this shield is very unlikely to kill them and causes them to flee for the 15 second ethereal effect.
Even though the shield is of Dwarven make, the armor bonus from Ancient Knowledge, rewarded by the Unfathomable Depths quest, does not apply to this item.
The shield's bashing spell does not provide the 15 second duration stated in its description.
Acquiring the perk Disarming Bash and then re-equipping the shield no longer applies the ethereal or fear effects when performing a Power Bash. Normal bashes still apply these effects. ?