Shadowkey:Skyrim
The UESPWiki – Your source for The Elder Scrolls since 1995
This page or parts of this page were previously transcluded from lore pages per this discussion.
This page should be checked for potential unrelated lore and other information. Please remove this banner when the page has been cleaned up.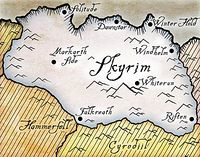 Skyrim, the northernmost province of Tamriel, is a cold and mountainous region also known as the Old Kingdom, Mereth, or the Fatherland, or Keizaal in the dragon tongue. Many past battles have given it a ravaged appearance and many ruins. Though currently inhabited primarily by Nords, the Elves who they replaced had resided there since time immemorial. The sovereign, the High King of Skyrim, is chosen by the Moot, a convention of jarls. A jarl is a regional ruler chosen through heredity and, rarely, through right of arms. The High King typically rules until death, though acts of dishonor, particularly the appearance of cowardice, can lead to the recall and reconsideration of the Moot. Since the Pact of Chieftains was signed in 1E 420, the Moot does not give serious consideration to anyone but the High King's direct heir unless one is not available.
For more information, see the main Lore article.
Shadowkey
[
edit
]
Of the fifteen Places in Shadowkey, only two are located in Skyrim (Lakvan's Stronghold and the Crypt of Hearts), but the influence of the province is felt throughout the game. Skyrim is at war with Hammerfell, trying to capture the city of Dragonstar, and her agents and soldiers will be found in many places.
Skyrim Quests
[
edit
]
The most notable Skyrim agent is Tanyin Aldwyr, who will give you several quests related to the war: