Online:Zone Guide/Eastmarch
The UESPWiki – Your source for The Elder Scrolls since 1995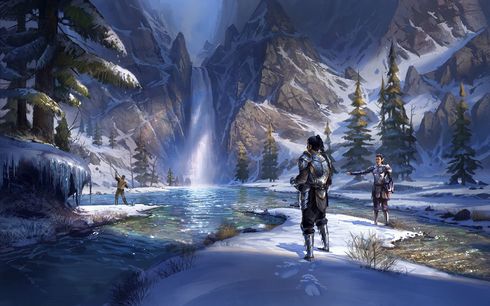 EASTMARCH
One of the "Old Holds," Eastmarch was among the first regions of Skyrim settled by the Nords when they arrived from Atmora. Its capital, Windhelm, is the oldest continually inhabited human settlement in Tamriel, and was founded by Ysgramor himself.
MAP COMPLETION
| | | | | | |
| --- | --- | --- | --- | --- | --- |
| 19 | 11 | 6 | 16 | 7 | 3 |
| 3 | 1 | 3 | 6 | 16 | 32 |
Zone Story Quests
[
edit
]
Zone Story Quests are the main story arc for the zone. Completing these quests can award you with skill points, experience, gold, and gear.
Wayshrines
[
edit
]
Wayshrines allow free, instantaneous travel between wayshrines that have been discovered and unlocked. You can also travel directly to any unlocked wayshrine from anywhere in the world for a small amount of gold.
Cave Delver
[
edit
]
Delves are solo-able dungeons found throughout the world. Delves will always contain a single skyshard and a boss who drops item set gear.
Points of Interest
[
edit
]
Points of Interest are self-contained stories that explore the lore, characters, and locations within a zone. These can award you with experience, gold, and gear.
Pathfinder
[
edit
]
Striking Locales are places of interest within the world. Discovering all of the Striking Locales in a zone will award that zone's Pathfinder achievement.
Set Stations
[
edit
]
Set Stations are locations in the world where you can craft items with specific item set bonuses.
Mundus Stones
[
edit
]
Mundus Stones are objects in the world that grant a boon in the form of a temporary player buff. This buff will persist until replaced with a different Mundus Stone boon.
Public Dungeons
[
edit
]
Public Dungeons are open world dungeons found throughout Tamriel and beyond. These are designed for four player groups. Completing different parts of Public Dungeons can award you with a skill point, experience, gold, and gear.
World Events
[
edit
]
World Events such as Dark Anchors are activities that occur in the world that are best tackled by a group of adventurers. Completing a World Event can award you experience, gold, and higher tier gear.
World Bosses
[
edit
]
World Bosses are difficult enemies meant to be tackled by a group of adventurers. Defeating a world boss can award you higher tier gear.
Skyshard Hunter
[
edit
]
Skyshards are scattered throughout the world and can be identified by the bright beam of white light they emanate. Discovering three Skyshards will grant you a skill point, which can be used to unlock or morph new abilities.
Clue
Location
Nestled beside Morvunskar's royal tomb.
Beside exit to the tomb.
(map)
Giants despoil the village below.
Southeast of Lower Yogrim, just south of Giant's Heart.
(map)
Leave the hollow to cure the chill.
Northwest of the Chill Hollow.
(map)
Strewn between tusks near the barrow.
Bonestrewn Barrow, northeast of entrance.
(map)
Beside a bridge to Amol.
Below the northeastern bridge to Fort Amol.
(map)
Lost in ruins beyond the grotto.
West of Lost Knife Cave.
(map)
Mzulft's secrets are not all underground.
Above Mzulft, right of the entrance.
(map)
Attempting to spy on Aelif.
Behind rocks on the western edge of Jorunn's Stand.
(map)
Stashed near a farm in icy winds.
Behind Seeks-White-Bird's House, Hfirorg Farm (unmarked location).
(map)
An illegitimate child's reading material.
The Bastard's Tomb, room left of entrance, bottom floor.
(map)
Search the slipperiest places in the hollow.
The Chill Hollow, bottom room, in the corner with wispmother & wisps.
(map)
Three eyes gleam, a frigid prize.
The Frigid Grotto, room right of entrance with bears & skeevers.
(map)
Crashed from the sky to open the vault.
Icehammer's Vault, small room on top left.
(map)
Old Sord excelled at hide-and-seek.
Old Sord's Cave, big room on bottom.
(map)
Among the dead, sheltered from storms.
Stormcrag Crypt, square room to the left, bottom floor.
(map)
Near a throne in the Hall of the Dead.
Atop rocks in the central chamber.
(map)
Shalidor's Library Books
[
edit
]
Shalidor's Library Books are scattered throughout the world. These books are identified by their distinctive purple glow. Discovering these books will improve your Mages Guild rank and advance the associated skill line.