Online:Zan'hi
The UESPWiki – Your source for The Elder Scrolls since 1995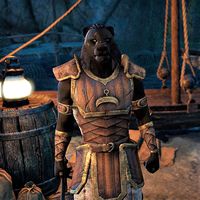 Zan'hi is a Khajiit and Hedani's lover. You can find the two in the cavern area of the Shimmerene Waterworks.
Related Quests
[
edit
]
Quest Dialogue
[
edit
]
When you approach his and Hedani's location, you overhear some of their conversation.
Zan'hi: "He is mad as a sugar-sick frog! Please, Hedani, you must go. If only for a few days."
Hedani: "Will you at least come with me?"
Zan'hi: "I want to, my love. But I still have much to do. Who's this now?"
Hedani: "One of your friends from Mother's Den? Please, Zan'hi, be quick"
If you speak him, he will not be looking for a fight.
"Zan'hi does not wish to fight you, walker, but he will if he must.
You will speak your business, yes?"
Wait. I'm a friend of the Mother of Rats. I'm trying to find a High Elf named Arathel.
"Hmm. If you were a friend to these Black Wake thugs, you would already know. This one will tell you what he found, but you must act quickly.
Mirulon plucked Arathel from his cell and brought him here. He means to bend the boy's mind, I think."
Where can I find Mirulon?
"He claimed the caverns ahead, but the way is guarded by more Black Wake warriors… and worse.
This Elf is more than he seems, walker. He is a spellweaver who consorts with Daedra! If you aim to rescue Arathel, you will have to deal with Mirulon."
What did you mean when you said that Mirulon aims to bend Arathel's mind?
"Mirulon wields magics that Zan'hi has never seen before—spells that twist good Elves' brains and make them dance to the caster's rhythm.
Arathel refused to kill the Sapiarch. But this one thinks, given enough time, Mirulon will make him do it."
What were you and your friend talking about before I arrived?
"Hedani was taken in by the Black Wake's lies. The Mother of Rats sent me to spy on Miurlon, but in truth I came here to rescue my love. She is… was, confused. But Zan'hi will get her to safety."
Get her to safety? What do you think is about to happen?
"If Mirulon bends the boy, Arathel, and makes him kill the Sapiarch, the Elf-guards will storm this place by the hundreds.
Soldiers of the Divine Prosecution do not show Khajiit mercy. Staying here would be a death sentence, you see?"
From then on, he'll only say:
"Why do you linger, walker? If you wish to save this boy, Arathel, you must move quickly."
Zan'hi is removed from the game after the completion of the quest.